SPECIALIST CHILDREN'S ENTERTAINER - KIDS PARTIES
BIRTHDAYS - CHRISTENINGS - COMMUNIONS
MAGIC SHOW + AWESOME BALLOON MAKING
Trace of Magic's magic show is full of fun, surprises with lots of laughter and audience participation. Trace is a family entertainer, which means that both Kids and Adults will have a wonderful experience throughout the show.
Trace incorporates clean comedy to keep your guests laughing while her magic will leave your audience in awe! Your kid is the STAR of the show and will recieve a special gift as a souvienr. You will be amazed how much your kid will enjoy the show. So, parents sit back and relax and enjoy the stress free hour of magic!
Suitable for Ages 3 to 10 years old
Option 1 – 45 minutes Magic Show & 15 minutes Balloon Twisting (Most Popular)
Option 2 – 1 FULL Hour Magic Show
YOUR CHILD IS THE STAR OF THE SHOW
Trace understands how important a child's birthday can be. That is why she specifically designs a portion of the program to feature your child as the star of the show. Trace will hand pick your child as her magical assistant in which he or she will perform a trick together with Trace. This of course will make your child feel like a superstar in front of all their friends and family. Just be sure to have your cameras ready to capture that Kodak Moment!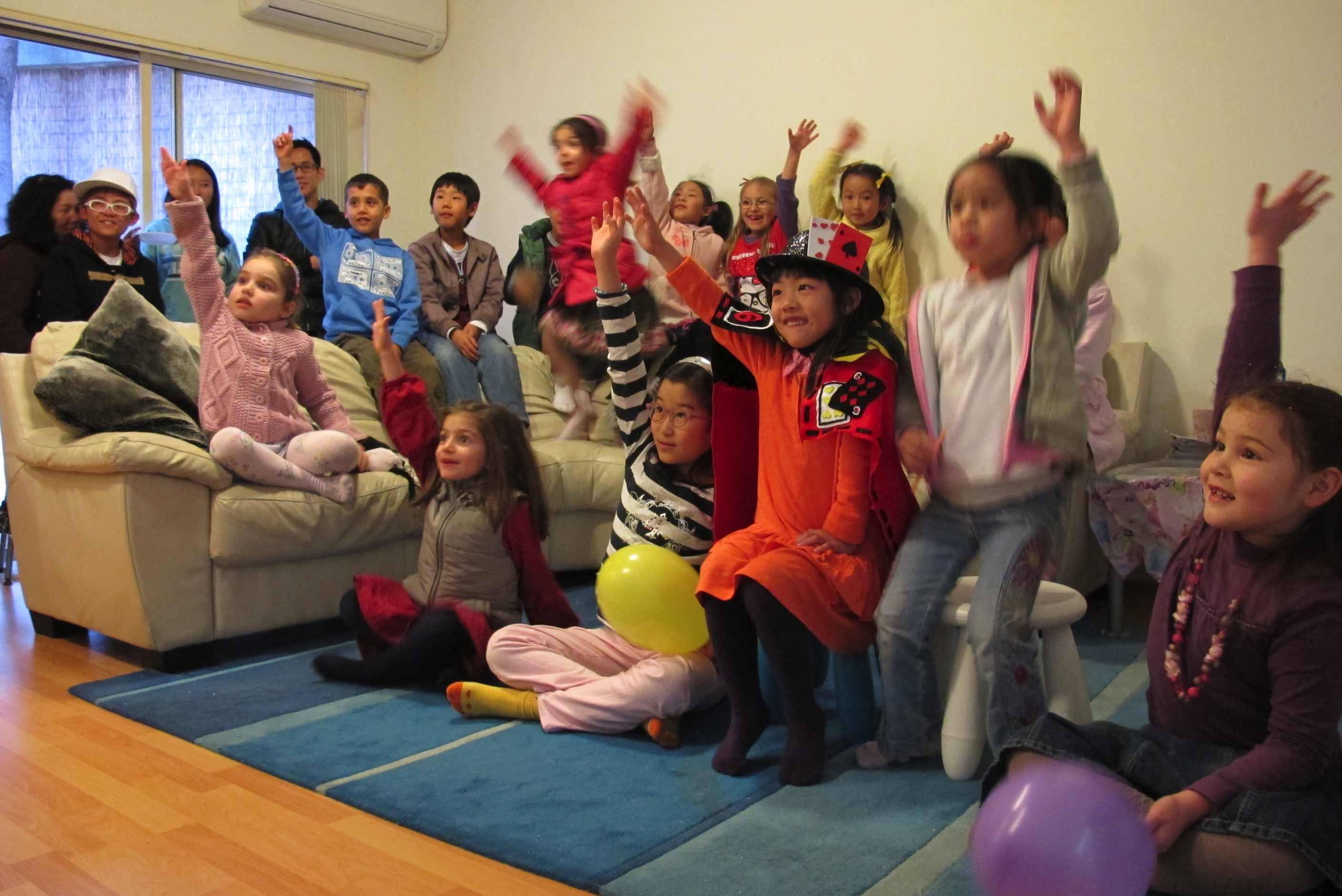 AUDIENCE PARTICIPATION THROUGHOUT
Trace engages her audience throughout the show. Whether it be shouting the magic words from the comfort of their seats or by coming up on stage as Trace's magical assistant, your guests will be actively participating throughout the show. Not only will this increase the excitement of your event, it will also result in a more memorable experience.
AMAZING MAGIC AND CRAZY COMEDY!
Trace's show is a high-energy, comedy interactive show that keeps kids laughing, and engaged with excitement from start to finish! Be prepared to hear a lot of screaming and laughing that even nieghbours can hear.
Imagine the memories you'll create for them as they see their living room transformed into a magic show stage and watch as Trace performs the impossible at their birthday party!
"The kids were totally engaged and laughing throughout the WHOLE time. Very entertaining and I highly recommend her to other parents "
"Absolutely hirlarious show. One of the Best Entertainers I've seen!"
"WOW! I love how Trace interacts with the kids. They were engaged for the FULL HOUR. I don't know how she does it. You need to get her for your kids birthday"
"I was amazed at how Trace connected with the kids. We all loved it. Adults had a blast too. Thank you Trace. I highly recommend her to other parents."
"You are so funny. Best Magic Show on EARTH!"
MAKE A DIFFERENCE TO YOUR EVENT WITH MAGIC!
FILL OUT THE CONTACT FORM BELOW